Inside Interior Designer Leanne Ford's Renovated Pennsylvania Schoolhouse
Everyone's got that dream of moving to the country, gutting some architectural gem you pic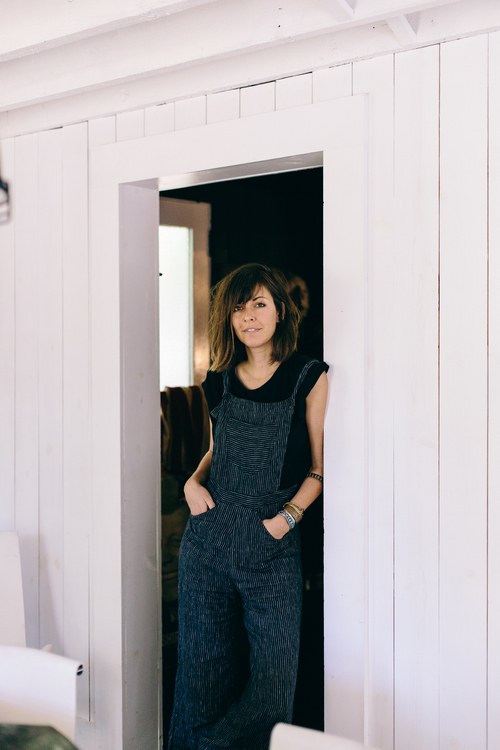 ked up for next to nothing, and making it into the getaway home to end all getaway homes—all with your own hands. Leanne Ford, a stylist turned interior designer, actually did all that. A few years back Ford bought a historic schoolhouse just outside of Pittsburgh, made it her own (with the help of friends, family, and a whole lot of tequila), and now splits her time between the RRL-meets-minimalist space and Echo Park in Los Angeles. Take a tour of Ford's pad and learn about how she got the job done in our latest edition of Gentleman's Quarters (or in this case, Gentlewoman's Quarters), below.

GQ: What do you like about living in Pittsburgh?
Leanne Ford: I love the trees. I live in the woods 20 minutes outside of town. I always say I bought my weekend home first. I have three acres of unbuildable land and woods around me. I live and work between Pittsburgh and Los Angeles, so when I'm at home in Pittsburgh it feels like a vacation to me.
GQ: How long have you been living in this home and how did you discover it?
I've been in this house for six years or so. I found it on Craigslist! It is the original one room schoolhouse in the town of Sewickley. It was seriously outdated and had been untouched since the '60s. I loved it immediately. I saw the potential and loved the land that it sat on. I also have a thing for history, and saving old buildings from being demolished. It's kind of my curse, because that can get expensive, to say the least. But these old homes have such a story and such character to them, and that can't be replaced or remade.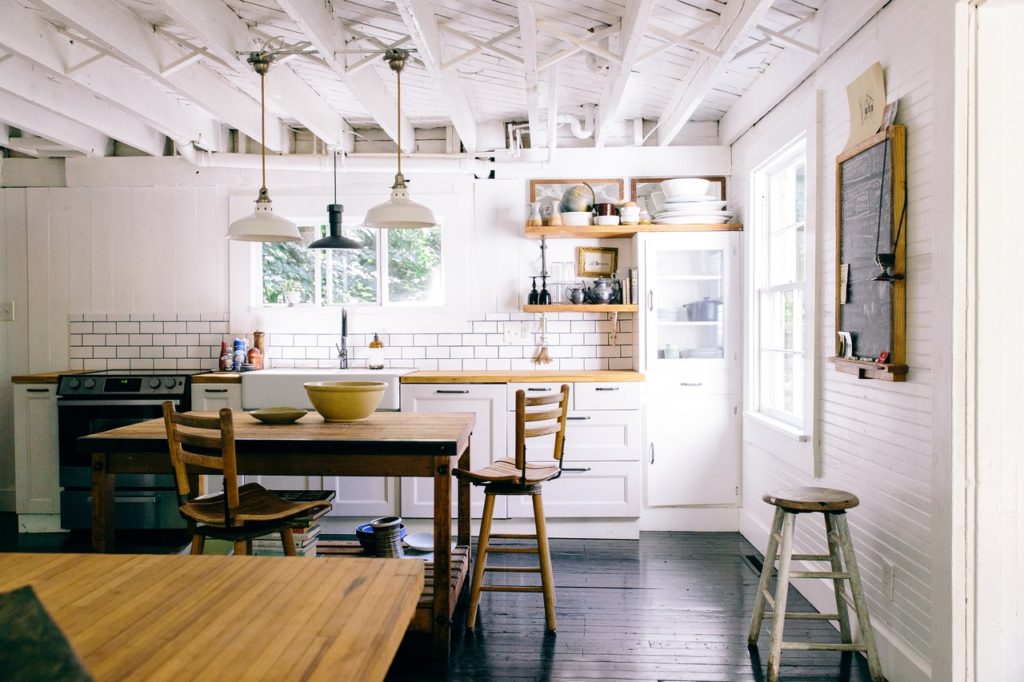 GQ: What was the renovation and design process like? How long did it take and how extensive was it?
It was a two or three year slow process that my then husband, friends, and family and I worked really hard on. We gutted every room and tore down the wall between the kitchen and the dining room. We didn't have much money to do the project so we paid everyone in beer and tequila.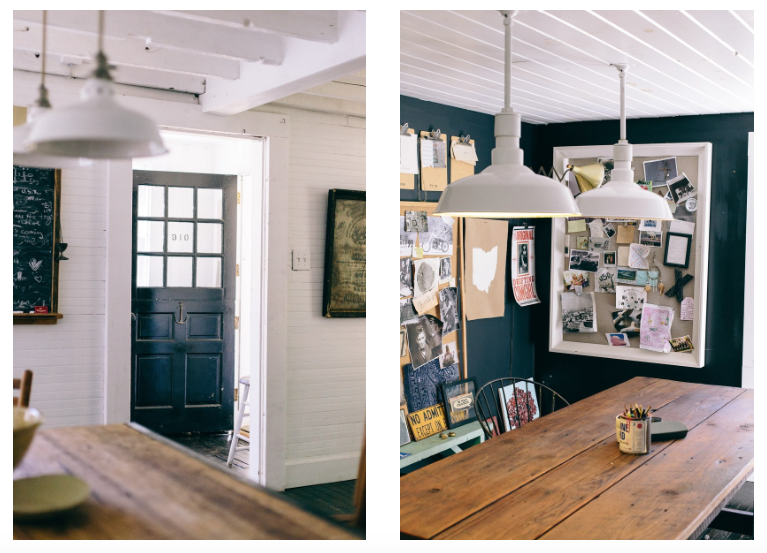 GQ: What was the biggest challenge in making this home your own?
Raccoons?? Just teasing. Kind of…Some of my favorite design decisions were really based on necessity; needing to solve a problem. The bathroom design with the tub and ledge is my favorite room in the house, but that design was created out of necessity. I wanted a separate shower and tub space, so I had to put the tub under the slanted roof line. Everyone thought I was crazy to do that. But I love the effect. And it's not like I need to stand up in the middle of that tub!
Also, since the house is so old, the ceiling in the living room is super low. It couldn't be ignored, so to give that more interest we put bead board and wood texture up, which made it a significant part of the room. I also just painted it all black just for a change for now. It feels cozy. And I know that I can always paint it back to white whenever I'm sick of it.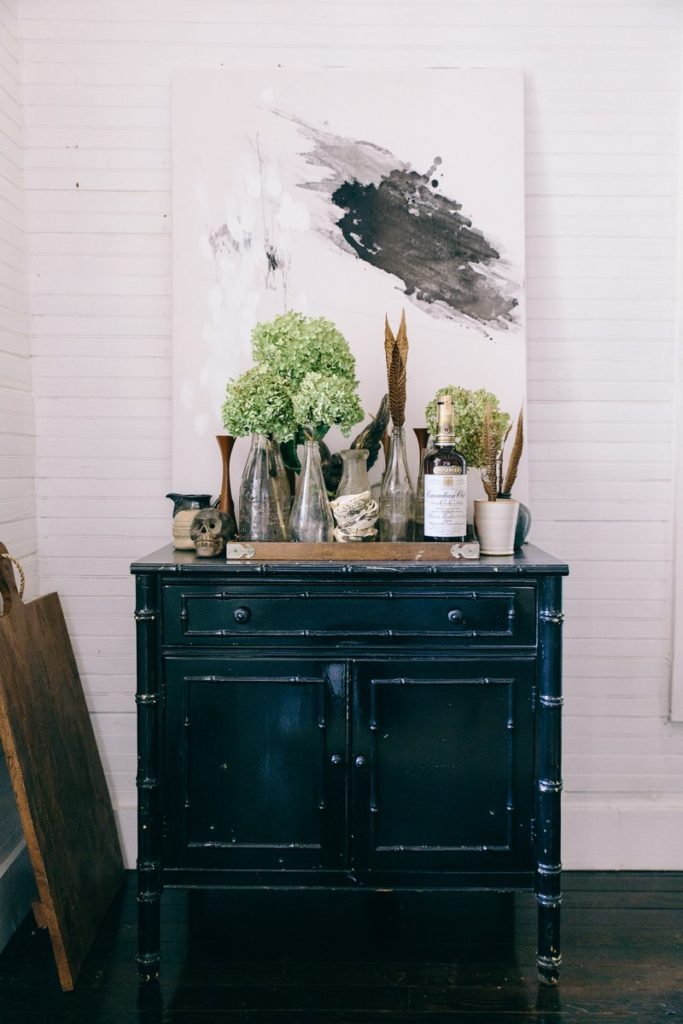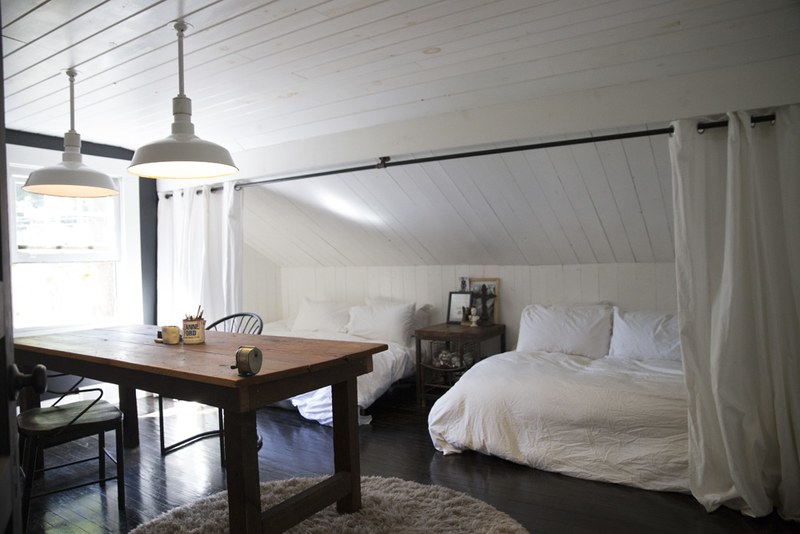 GQ: Tell us about your work space/guest room (pictured above). Is it more one than the other?
This is my office space, first. Guest room, second. Because I wanted to be able to work from home without feeling like I was sitting in a bedroom; the curtains close to hide the beds, so I don't even have to see them.
I have a lot of guests coming through town. Half the time I am not even there. Lots of my band friends stop here between Nashville and New York City. Its a great halfway point. I like to say I have a two bedroom house that sleeps 13. The most that have stayed in one night was 18 people. I owe my career in fashion and now interiors to all of the friends that let me sleep on their couches all over the country before I could afford rent or hotels. So now, I try to pay that forward to other friends working on following their dreams.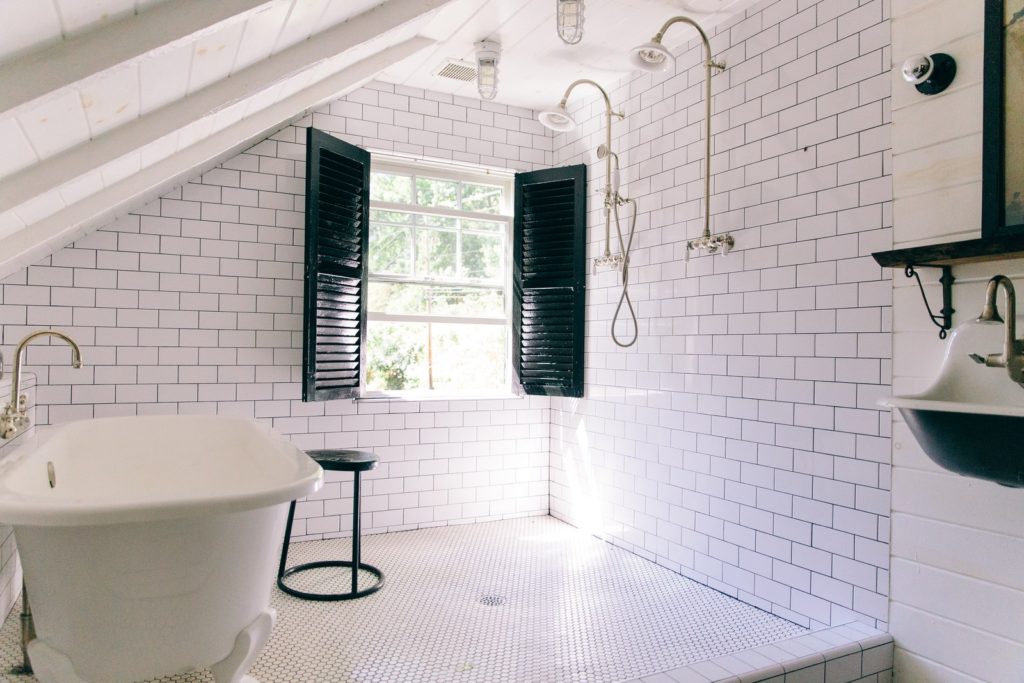 GQ: How long had you been working as an interior designer before this home became a project?
This house actually started my interior career. I had been doing creative direction and styling in New York and LA my whole career and this house was a home base in my hometown. I wrote a blog about the progress of the project and Country Living got word of it. They shot the house and people started calling, asking me to design their work spaces and homes. I said "sure!" then called up my friend Dan, a very successful designer friend and asked "How do I do this?"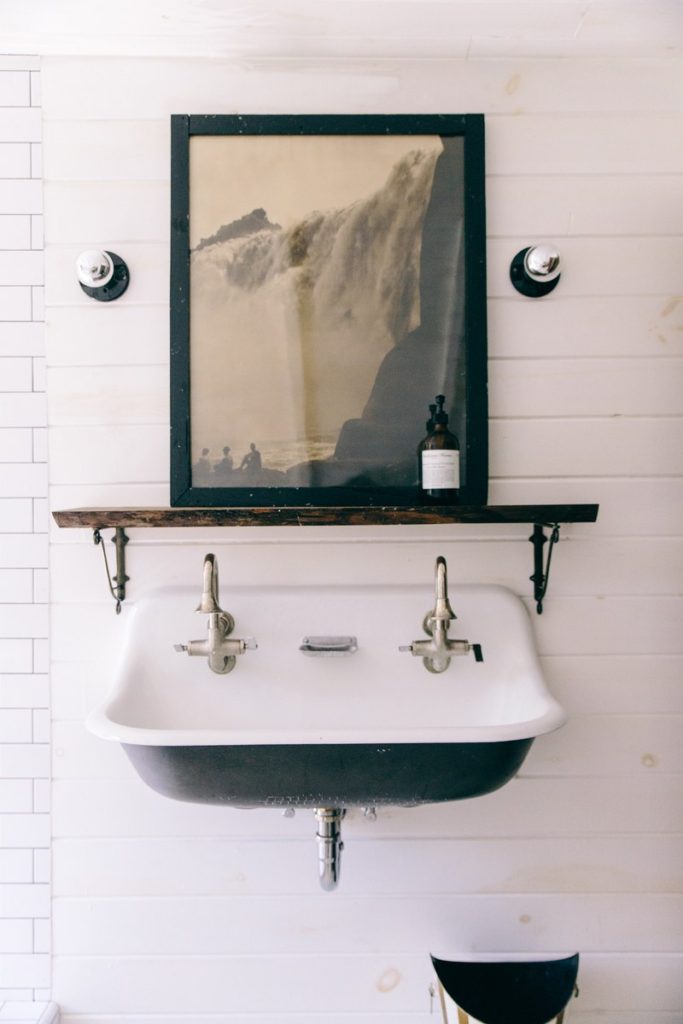 GQ: How would you describe your aesthetic as an interior designer?
Easy, warm and lived in. I'm a strange combination of minimalist while still liking lots of layers and "stuff", really. For my clients, I don't want someone to walk into their home and think "Oh! You got an interior designer!" As a designer I want to fade into the background, I want your visitors to say, "This place is so you!"
GQ: What kinds of interior design projects do you work on? What was a recent favorite?
I do residential homes, restaurants, and store fronts. I recently helped the guys at Buck Mason turn an old school bus into a portable shop. That was a blast. We had to figure out how to match the aesthetic of the bus with their brand. We also wanted it to tie into the other shops that we did for them. We reupholstered the driver's seat in their signature vintage army fabric. I love how it turned out. It has a cool, easy style to it. Their clothing has such clean lines, while still being comfortable, so I made sure to capture that feeling in their spaces as well.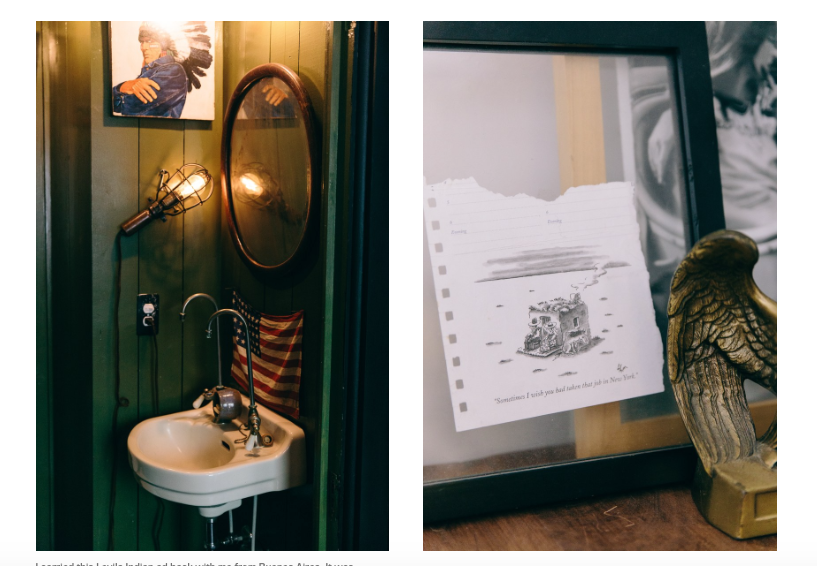 I carried this Levi's Indian ad back with me from Buenes Aires. It was hanging in a vintage clothing store. I still can't believe they let me buy that thing!! It's so good.
The business of interiors is something that I'm still learning for sure, but there is definitely a creative aspect of design that is innate and can not be taught. When I wonder what the heck I am doing, I try to remind myself of that. Putting things and colors and looks and homes together comes very easy to me, thankfully. Everyone has their own unique skill that comes naturally to them, try to find that and bottle that up, make a career of it.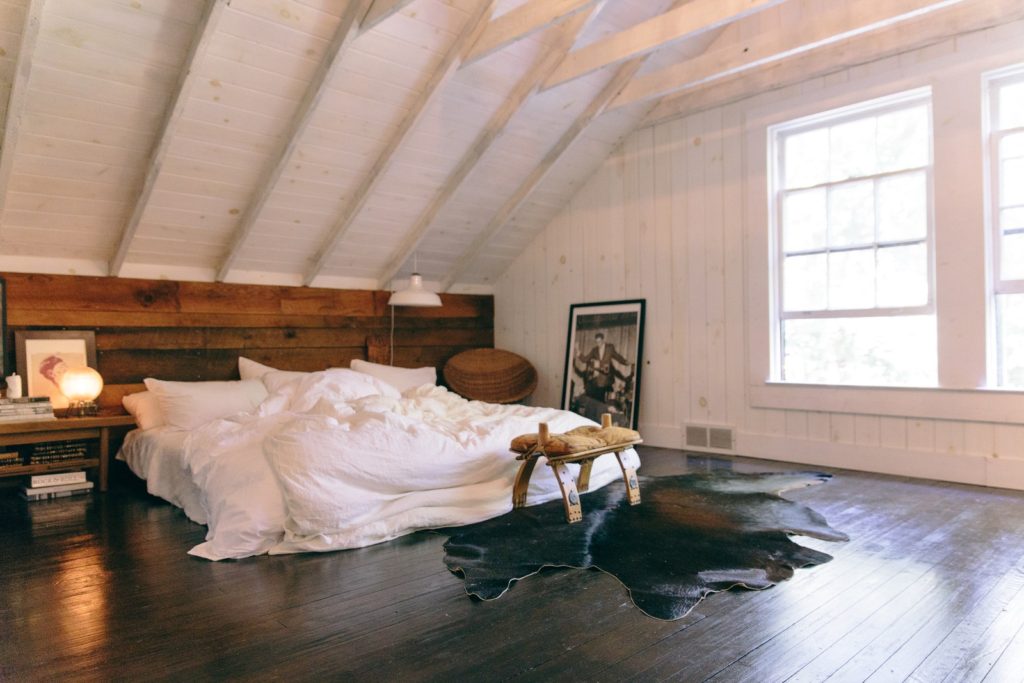 GQ: What interior design advice would you guy every guy in America?
Funnily enough, I did an article for GQ a couple of years back on advice for your bachelor pad. But other advice would be: relax and don't over think it. Homes should feel warm and personal and thought about, but not stressed about. Edgar Allen Poe said "There's no beauty without some strangeness." I think that's so true in interior world. It all needs a little bit of quirk to it. No matter how done up your home is, it could always stand a touch of humor and personality.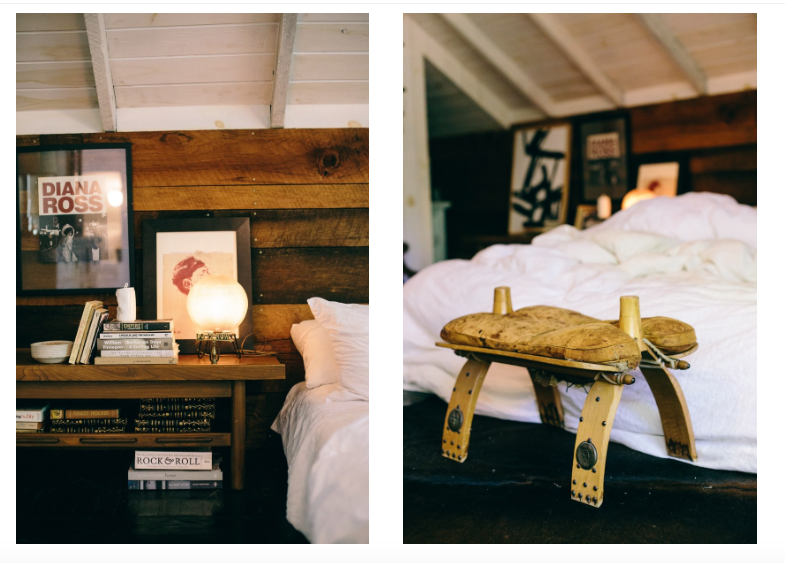 GQ: What are some easy or affordable ways to make your home more stylish?
Paint! A fresh coat of paint will do wonders. And it's quick and cheap and easy. I think there's a lot of power in paint. Especially when it's black or white and you don't need a ton of time standing and picking out shades of paint that you'll be over in a year. White paint makes everything in your home feel more crisp, fresh and modern, even your vintage and found pieces. Think of white walls as kind of the silence between the chords in your space.
GQ: Where do you source furniture and objects for your home? What are some of your secret spots?
In Los Angeles I love Big Daddy's Antiques for great found and curated vintage, Amsterdam Modern for the best selection of hard to find mid century modern, Olde Good Things (which is in NYC too) for incredible salvage doors, windows, and hardware. In Pittsburgh I make it a habit to check out what Ed at TriState Antiques in Canonsburg has. He has six levels of gorgeous mid century and treasures at really really great prices.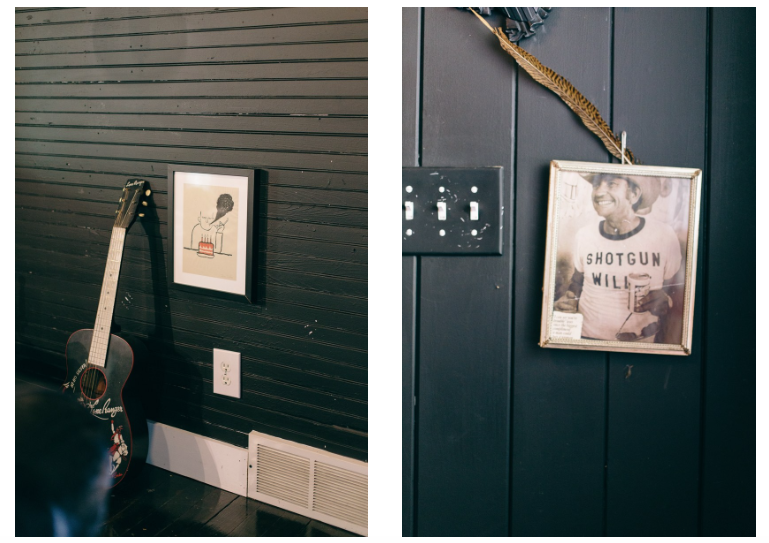 I bought this Jean Jullian birthday print for myself for my 35th birthday and felt like I had just bought myself a Warhol! I feel like he is that important for our time. He's the guy that did the Eiffel Tower Peace sign after the tragedy in Paris. He's incredible.
GQ: How do you balance work and regular life?
I love to create. That is when I am happiest. But I work to live, I do NOT live to work. When you are in any creative field, when you work for yourself and are a freelancer you have to be careful because the line is very blurred between when you are on or off the clock. You have to be able to shut that business side of your brain down and relax. Go have an incredible meal, take a vacation, visit a friend (without helping them pick out paint colors). You really have to take care to be still once in a while. I am about to take a hiatus for a month or so. I have been closing up outstanding projects and I am not taking on any new projects until after the New Year. I know I will be refreshed and ready to hit the ground running by then.